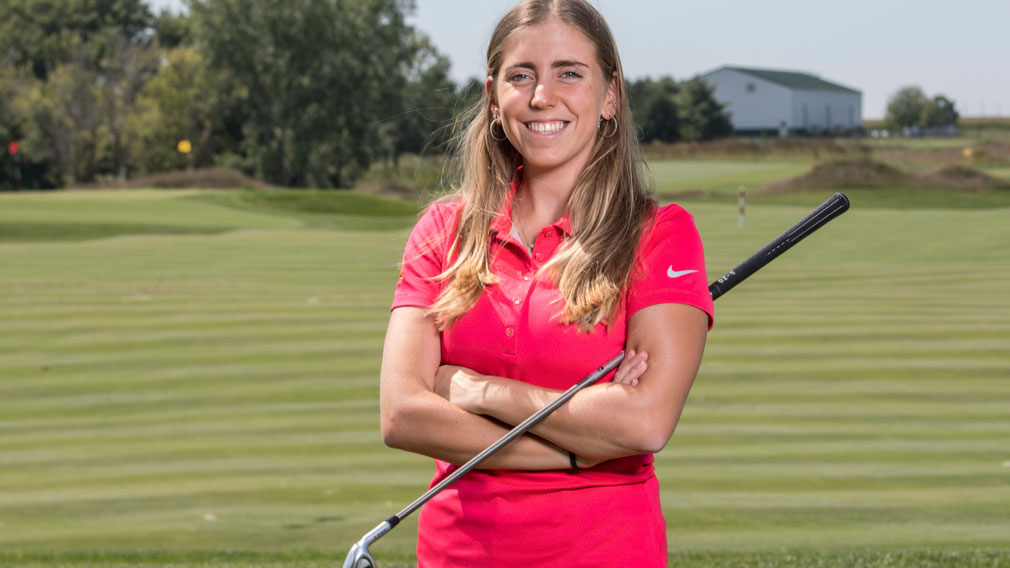 Top amateur golfer 'stabbed and killed by homeless man'
A homeless man attacked and killed a top amateur golfer from Spain who was playing a round alone near her university campus the US, leaving her body in a pond on the course, police said.
Collin Daniel Richards, 22, has been charged with first-degree murder in the death of Celia Barquin Arozamena, a student at Iowa State University.
Barquin was found on Monday morning at Coldwater Golf Links after police were called to the course to investigate after other golfers found a golf bag with no one around it.
The 22-year-old was found with several stab wounds to her upper torso, head and neck. (AAP)
Collin Daniel Richards has been charged in the killing of Celia Barquin. (AAP)
Officers found Barquin's body some distance from the bag, with several stab wounds to her upper torso, head and neck.
"It's still very troubling for something like this to happen in broad daylight in a community that is as safe as Ames is," Police Commander Geoff Huff said.
Barquin, the 2018 Big 12 champion and Iowa State Female Athlete of the year, had no known prior relationship with Richards, Mr Huff said.
Richards, who faces a mandatory sentence of life in prison if convicted, reported in a financial affidavit that he has no job.
A police dog tracked Barquin's scent to a homeless encampment along a creek near the golf course, where Richards had been living in a tent.
Officers found Richards with several fresh scratches on his face consistent with fighting, and a deep laceration in his left hand that he tried to conceal, it said.
An acquaintance of Richards told investigators that the suspect had said in recent days that he had "an urge to rape and kill a woman".
A second acquaintance told police that Richards arrived at his home on Monday appearing "disheveled and covered in blood, sand and water." He bathed and left with his clothes in a backpack.
Investigators later recovered two pairs of shorts with blood stains and a knife that Richards allegedly gave to two other people after the slaying.
Golfers alerted police after they found a golf bag on the course. (AAP)
Those two individuals were driving Richards out of town after the slaying, but he asked them to drop him off near the camp so he could get his tent. Officers later encountered and arrested him.
The university said Barquin, a native of Puente San Miguel, Spain, was finishing her civil engineering degree this semester after exhausting her eligibility at Iowa State in 2017-2018.
Iowa State President Wendy Wintersteen said on Twitter that she was "deeply saddened" by Barquin's death.
She was one of the most accomplished players in Cyclone golf history. In April, she became the second women's golfer at Iowa State to earn medallist honours at a conference tournament when claiming the 2018 Big 12 Championship. She did it with a three-shot victory.
Barquin, who was ranked No. 69 nationally by Golfweek, ended her career as a Cyclone with a fourth-straight NCAA Regional appearance and earned All-Big 12 Team honours for the third time — the second player in Iowa State's history to do so.
She was the third Cyclone women's golfer to compete in the US Women's Open Championship, the university said. The team announced on Tuesday it was pulling out of the East and West Match Play in Ann Arbor, Michigan, to be with friends and family and to grieve their loss.
Head women's golf coach Christie Martens said in a release that Barquin was a well-loved "outstanding representative of our school."
"We will never forget her competitive drive to be the best and her passion for life," Martens said.