World
Several killed in US grocery store shootout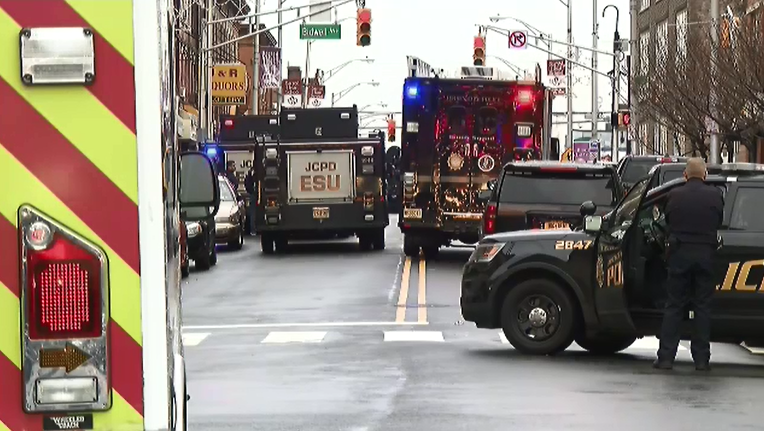 At least six people are dead, including a police officer, after a shootout in the US state of New Jersey.
The gunfire began just after 12.30pm local time when officers responded to reports of an armed hold up at a Jewish grocery store near the corner of Bayview Avenue and Martin Luther King Drive in Jersey City.
Three members of the public were shot and killed in the store before the two alleged offenders managed to escape, scaling roofs and opening fire on responding police and people on the street.
Several police cars responded as the two suspects allegedly used a rifle shooting from the rooftops.
Multiple agencies were on scene, including FBI and SWAT teams.
Witnesses said they saw armed officers with guns pointed in various directions as they marched down the street trying to locate the suspects.
At least one officer was shot during the gunfire and they died from their injuries despite being rushed to hospital.
Another two officers and a member of the public were injured in the crossfire, but remain in a stable condition.
As a precaution, police placed 12 surrounding schools in lockdown as bullets rain down.
"Safety for our children and staff is our number one priority," Bayonne Board of Education tweeted about the situation.
Rapid gunfire could be heard in video from the scene as panicked members of the public fled.
Governor Phil Murphy said in a statement: "I have been briefed on the unfolding situation in Jersey City. Our thoughts and prayers are with the men and women of the Jersey City Police Department, especially with the officers shot during this standoff, and with the residents and schoolchildren currently under lockdown."
The New Jersey State Police Benevolent Association tweeted: "We need a lot of prayers right now for Jersey City officers. Keep all those involved in your thoughts."
Authorities have said they do not believe this is a terror related incident and investigations continue.