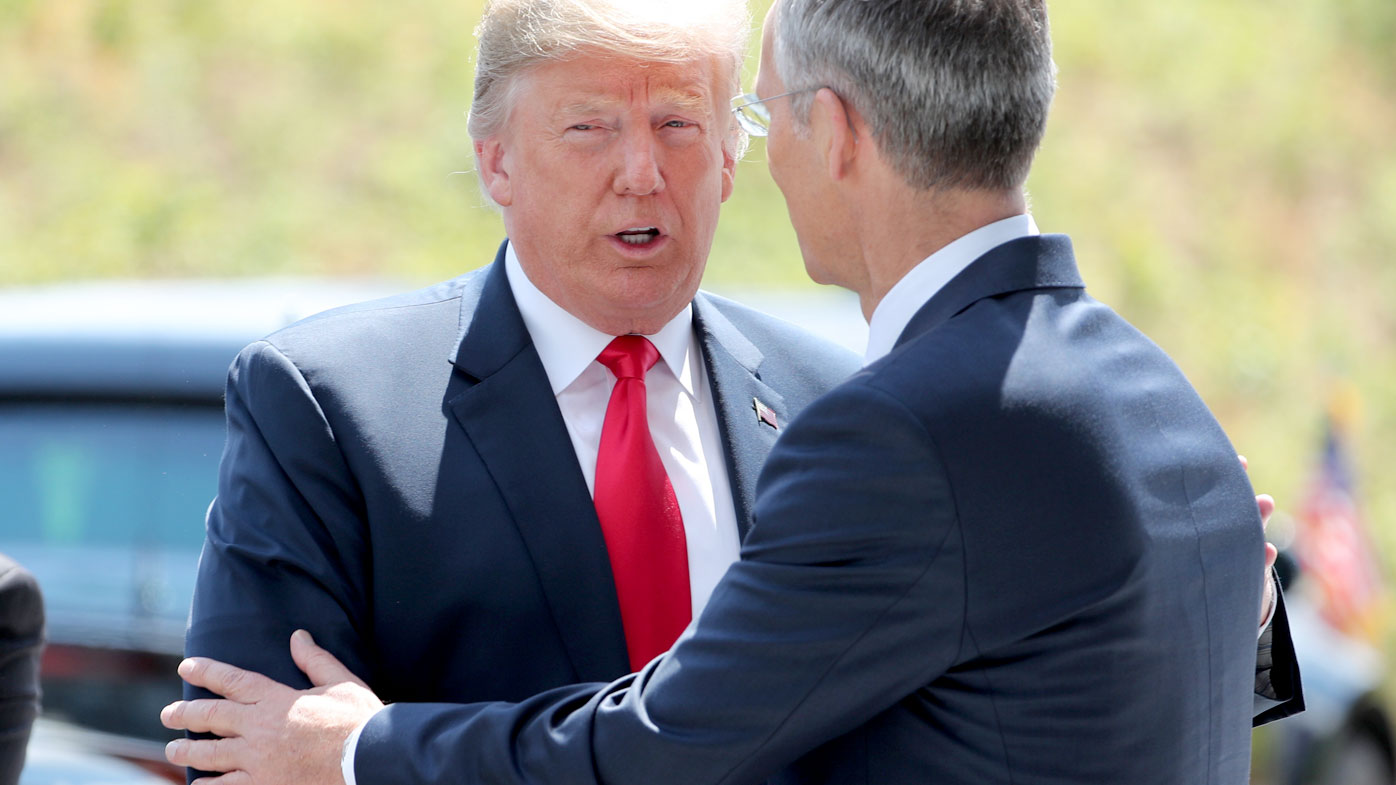 'Germany is a captive of Russia': Trump lashes out as he arrives at NATO summit
US President Donald Trump has accused Germany of being a "captive" of Russia, as Western leaders gather in Brussels for a NATO summit where Trump wants Europeans to pay up more for their own defence.
Trump told NATO Secretary-General Jens Stoltenberg that Germany was wrong to support a new Baltic Sea pipeline to import Russian gas while being slow to meet targets for contributing to NATO defence spending intended to protect Europe from Russia.
"We're supposed to be guarding against Russia and Germany goes out and pays billions and billions of dollars a year to Russia," Trump said.
Trump said Germany's closure of coal and nuclear power plants on environmental grounds had increased its dependence, like much of the rest of Europe, on Russian gas.
"We're protecting Germany, we're protecting France, we're protecting all of these countries. And then numerous of the countries go out and make a pipeline deal with Russia where they're paying billions of dollars into the coffers of Russia ... I think that's very inappropriate.
"Germany is a captive of Russia. They got rid of their coal plants, they got rid of their nuclear, they're getting so much of their oil and gas from Russia."
Trump also renewed his call for other NATO allies, including Germany, to "step it up" and pay in more to the Western alliance after years in which US taxpayers have, he said, borne an "unfair" share of military spending:
"Germany is a rich country, they talk about increasing it a tiny bit by 2030. Well they could increase it immediately, tomorrow, and have no problem," Trump said
His comments about Germany and Russia drew a tart riposte from German Chancellor Angela Merkel as she arrived later at the summit.
"I have experienced myself how a part of Germany was controlled by the Soviet Union," she said of her youth in Communist East Germany.
"I'm very glad that today we are united in freedom ... because of that we can say that we can make our independent policies and make independent decisions."
She also defended Germany's contribution to an alliance which Trump says places too much burden on the US taxpayer.
Stoltenberg later told reporters that Trump had used "very direct language" but that all NATO allies agreed that the cost of defence spending must be spread around.
The NATO chief was frank about the impact of Trump's criticism on the organisation.
"So far it hasn't impacted on NATO that much, I cannot guarantee that that will not be the case in the future. The transatlantic bond is not one, there are many ties, some of them have been weakened."
US President Donald Trump is greeted by NATO Secretary General Jens Stoltenberg as he arrives for a NATO summit in Brussels, Belgium. (AAP)
German Chancellor Angela Merkel speaks as she arrives for a summit of heads of state and government at NATO. (AAP)
© RAW 2018