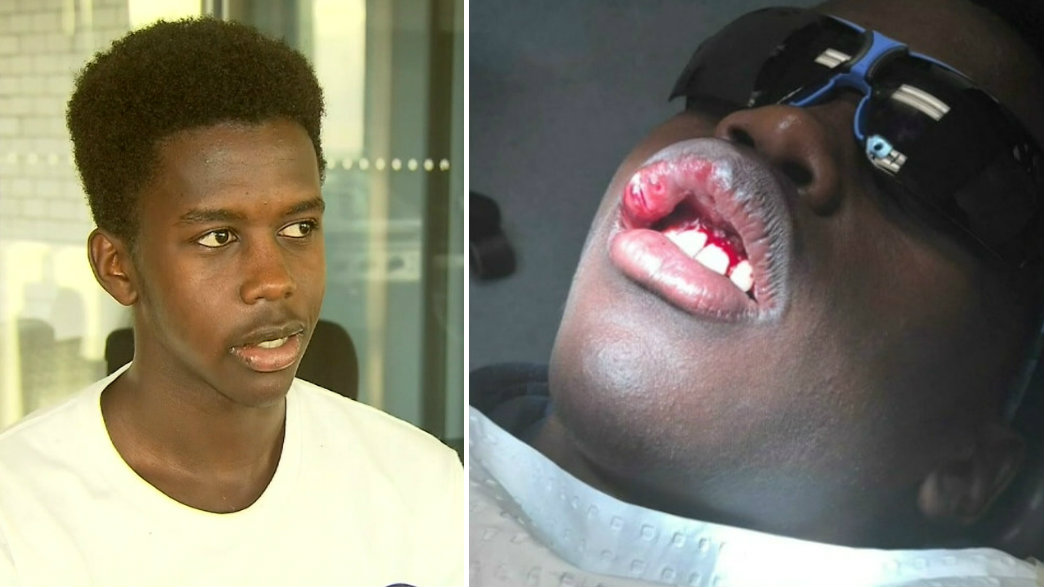 Teen's teeth knocked out after footy field 'racial abuse'
A young footballer badly injured during a game has claimed he was racially abused by an opponent before being attacked.
Ngor Aker was playing a Second 18 game for Geelong College against Haileybury in Melbourne on Saturday.
"The bloke said, you got a shadow, and I said, are you being racist," Ngor, 17, told 9NEWS.
Teen footballer Ngor Aker claims he was racially abused and attacked during a school football match.
"And he said yeah, what are you going to do about it, and I pushed him."
Some pushing and shoving ensued before, Ngor said, he was suddenly felled behind play.
"I wasn't expecting it and as soon as it happened I got down on my knees and saw the blood coming out," he said.
Ngor's injuries included five teeth being forced out along with a fractured jaw.
The Haileybury student was sent from the ground and didn't return to the game.
Ngor was sent to hospital with shocking injuries.
His five front teeth were forced from their sockets, he had a fractured jaw and cuts on his gums and lips that required stitches.
The game took place between Geelong College and Haileybury on Saturday.
However, he said the most hurtful part was the abuse.
"Makes me feel embarrassed, like why would someone do it," he said.
"It's already happened multiple times, he took it a step too far."
Ngor's family fled South Sudan 14 years ago.
The young ruckman was told by a specialist the potential long-term damager of his injuries could force him to get veneers.
His family, who fled South Sudan 14 years ago, are supporting him.
There will be a scheduled tribunal hearing tomorrow night.
Ngor may have to get veneers due to the long-term damage.
Haileybury Principal Derek Scott said the school was investigating the incident and could not comment further.
However, Ngor is already uncertain he will step onto the field again.
"I want to go back and play but I am really scared it's going to happen again," he said.
"No-one deserves to be treated the way I was, and it's 2018 - we should be moving on from this."