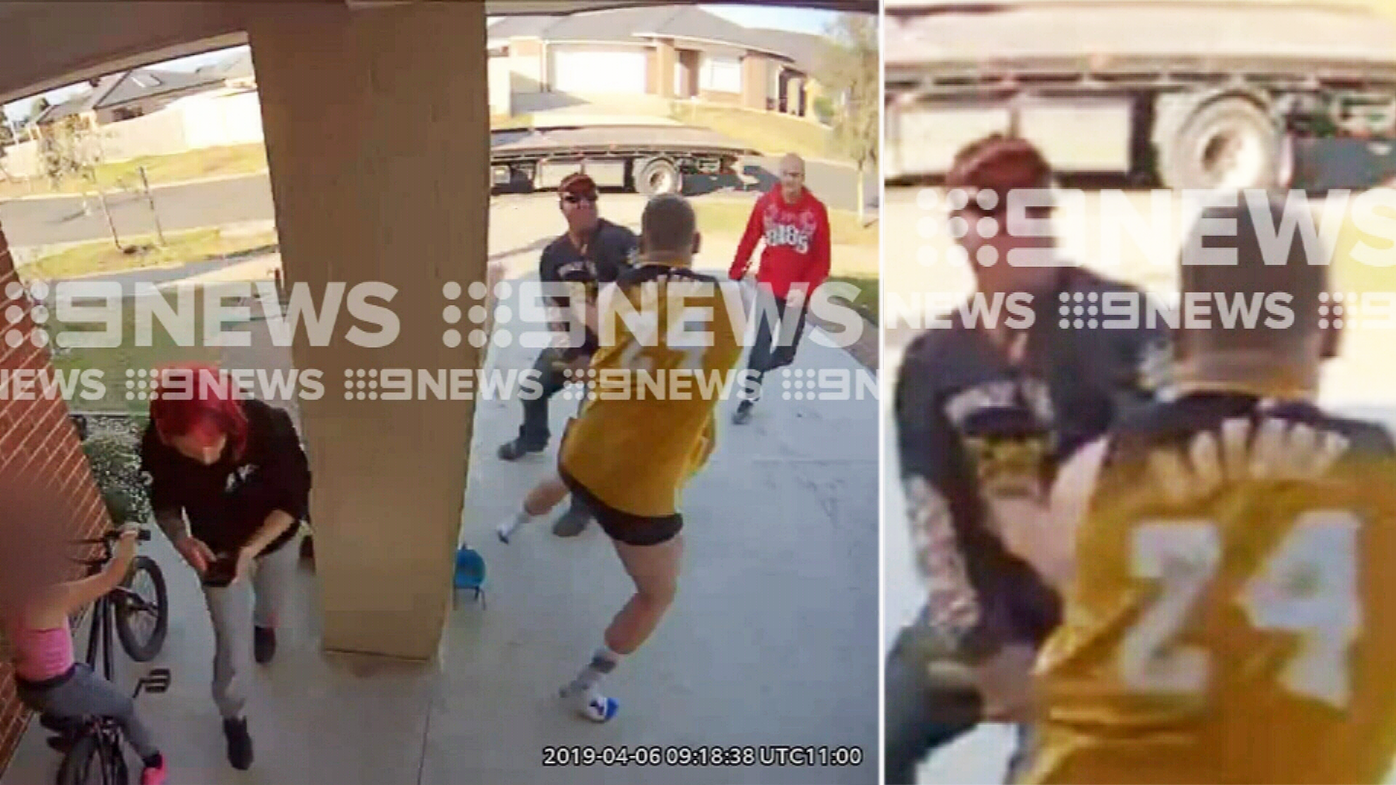 CCTV of hammer and bat attack
A five-year-old girl watched as her father fight off two armed men who stormed a Wallan property wielding a hammer and a baseball bats.
CCTV obtained by 9NEWS shows the thugs - one wearing a top with Hells Angels branding - charging towards the 29-year-old father before setting upon him with a barrage of blows.
The pair arrived in a white tow truck, blocking the family's driveway as they prepared to go on a bike ride at around 9.15am on Monday.
Exiting the vehicle, the men begin yelling profanities at the victim, who wants to be known only as John, before beginning a savage attack in front of his screaming child.
John can be heard asking the men: "What for? What for?"
"She's in fear of her daddy's life. Let me tell you, I haven't forgotten the noises she made," John told 9NEWS.
"He can't come at me throwing hammers at my house that miss my daughter's head by inches."
John fought back, wrestling the hammer from one man's hand after just a few seconds before the thugs fled.
"As soon as I lay one punch he ran away. He hit me 17 times with that hammer, I hit him once and he ran away," he said.
They were last seen driving on Taylor's Lane in Wallan before heading north towards Wandong.
Police have confirmed they are investigating but not looking for any witnesses as they believe the parties are known to each other.
John claims the men were trying to steal his vehicle and admits he had been in contact with the hammer-wielding thug since.
Now covered in cuts and bruises, he says his boxing experience came into play and he is determined to bring justice to his attackers.
"I fought them with my bare hands," he said.
He said his partner and daughter are seeking refuge at a "safe house" and are too afraid to return home.
"They shouldn't have to go through what they've seen. They know they're protected by me but who comes to someone's home and commits violence in front of their family?" John said.
© Nine Digital Pty Ltd 2019