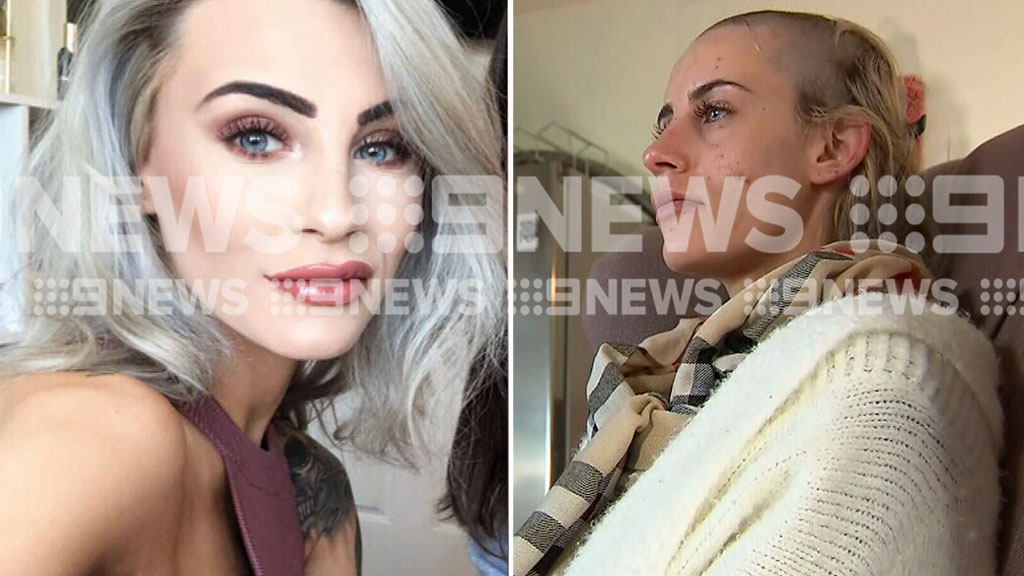 Woman 'kidnapped and tied to a pole by ex-partner' in two-day ordeal
A young woman who was allegedly kidnapped and held hostage in a Sydney bikie clubhouse for two days has opened up about her horrific ordeal.
Cheyane Lubec, 22, is recovering at home with her family after her terrifying ordeal ended yesterday, and ex-partner Chad Hogg was arrested by police.
Ms Lubec was allegedly forced into a car and kidnapped, bound and dragged to the Gypsy Jokers Clubhouse in Horsley Park on Sunday night.
For Cheyane Lubec's remarkable story of survival, watch the exclusive interview on 9NEWS at 6pm.
Cheyane Lubec spoke to 9NEWS of her ordeal.
Ms Lubec says she has a fractured cheekbone, bruising, and blurred vision.
Cheyane Lubec.
She was then allegedly stripped naked, tied to a pole, bashed, and had her head shaved.
She claims she was left in darkness with no food or water for two days.
Ms Lubec has told 9NEWS of her horrific injuries.
Police arrested Mr Hogg after he surrendered to officers. (9news)
Ms Lubec was allegedly left in the dark and without food for two days.
"I have a fracture in my cheekbone, I have bruising all over my face," she said.
"My right eye is blurry when I see out of it now.
"I can't breathe from my nose properly.
"They think my bone has been broken in my nose."
Ms Lubec credits her mother with helping her escape.
Ms Lubec was allegedly held captive at the Gypsy Jokers clubhouse in Horsley Park.
Police at the Gypsy Jokers clubhouse yesterday.
Mr Hogg surrendered himself to police at the Gypsy Jokers clubhouse yesterday afternoon, after a tense stand-off, which lasted almost two hours.
The 29-year-old was arrested and charged with several offences.
He will remain behind bars until November.