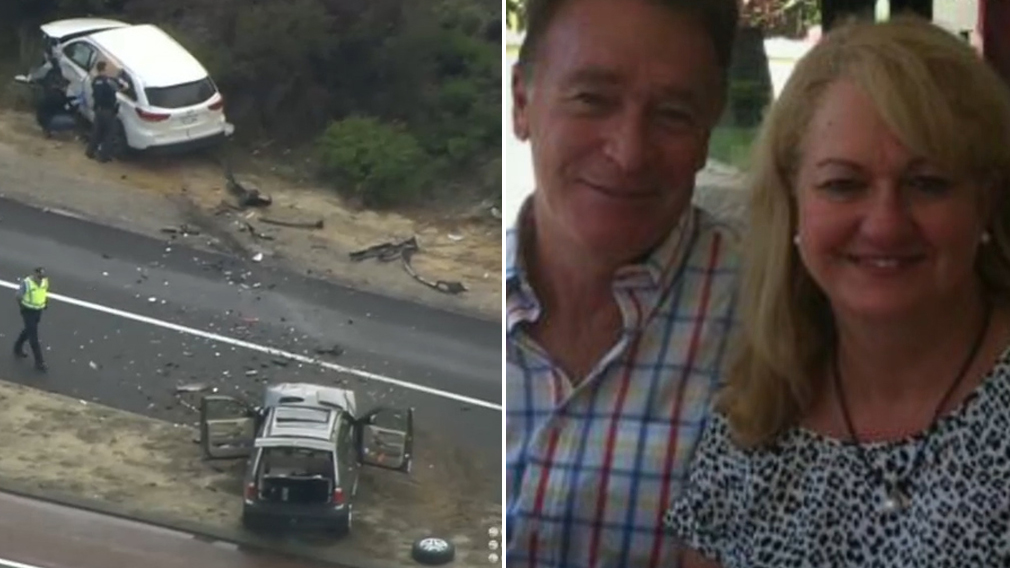 'We've survived': Horror pursuit through Perth injures grandparents
Police have been forced to draw their guns following a dangerous pursuit that ended in a head-on crash on Perth's Mitchel Freeway.
A white Toyota Kluger was on the run for several hours after an alleged crime spree.
The chase began at about 11.30am on West Swan Road in Gnangara, and finally came to an end at about 12pm after the Kluger hit a BMW when it turned the wrong way down the at the Cedric Street on-ramp.
The Perth grandparents were injured when the stolen car turned the wrong way onto the on-ramp. Picture: 9NEWS
Shenade Harris is a stable condition in hospital after she suffered neck and chest injuries. Picture: 9NEWS
"It was just horrendous, it was raining so couldn't see very well," victim Roger Harris told 9NEWS.
"The car came around a bit of a curve and we're coming up to the curve so within one second the car's right on you and you're got nowhere to go to, you try and swerve and they tried to swerve but we both swerved the same way and it was just head on."
Mr Harris' wife suffered neck and chest injuries in the crash.
"We've survived which is the most important thing," he said.
A 33-year-old man was allegedly behind the wheel of the stolen car, and three women in their twenties were in the passengers seats.
The Toyota Kluger turned the wrong way down the Cedric St on-ramp. Picture: 9NEWS
Victim Roger Harris said it was 'horrendous'. Picture: 9NEWS
All four fled after the crash.
"When the suspects were chased on foot from the stolen Kluger it was an unknown environment, so when they challenged the male driver, I'm told he turned around and pointed that loaded firearm at them," Inspector Dean Snashall said.
Police were then forced to draw their guns and the driver dropped his weapon.
The man was arrested and taken to hospital with cuts and chest injuries.
The pursuit came about after police were searching for the stolen vehicle over an armed carjacking in Mirrabooak.
The driver is under police guard in hospital. Picture: 9NEWS
The 28-year-old man had his car stolen at gunpoint and was punched in the head and body several times before he was dragged out of the car at about 6.50pm.
He was driving west along Beach Road in a black Volkswagen Jetta before he stopped at the Butterworth Avenue traffic lights.
The white Toyota Kluger stopped next to the Jetta when a man got out, walked to the victim and demanded property.
The victim said he saw a second person in the Kluger pointing what is believed to be a firearm at him.
The two offenders stole the Jetta and drove west on Beach Road.