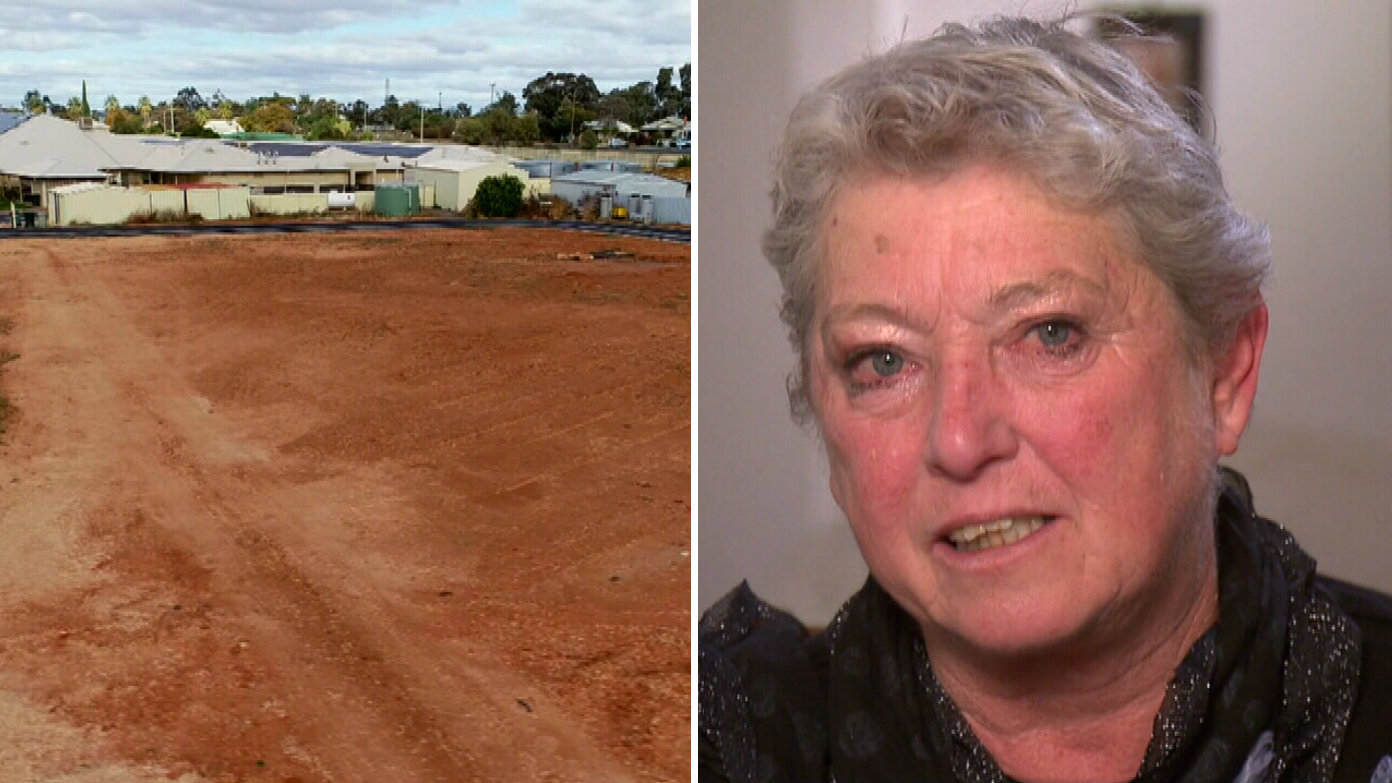 'We have people dying here': Community calls for hospice funding
Local politicians have been called on to step in and fund a hospice in a north-west Victorian town, to allow locals to spend their last days surrounded by friends and family.
Leading the charge for the hospice is 67-year-old Carolyn Driscoll.
"We've got people out here suffering," Ms Driscoll told A Current Affair.
Carolyn Driscoll is pushing for a hospice to be built in the rural Victorian town of Mildura. (9news)
"We have people dying here, why should they go 'there' and 'there' and 'there' to die with no family and friends?"
Ms Driscoll has led the campaign for six years, and in that time she has secured the land and rallied the community to build the facility.
Chaffey Aged Care donated the land for the hospice.
She is urging the government to come to the table with funding. (9news)
"We've got vacant land, we've got expertise in delivering palliative care services, and we're really keen to get on board and support our community," CEO Darren Midgley said.
Now, Ms Driscoll is asking the government to come to the table with funding.
Currently, people who are unable to spend their last days at home have no option but to travel to hospital, which often involves a separation from loved ones.
The land has already been donated. (9news)
Ms Driscoll has already shown the impact a local hospice can have in regional communities, after getting one built in Robinvale, 100km from Mildura.
Jim Holland, whose mother passed away in the Robinvale hospice, said she had felt "absolutely comfortable" in her final days.
"In fact at one stage, she said, 'This is home now'," he said.
Ms Driscoll led the way to building another country hospice. (9news)
State Mildura MP Peter Crisp said Ms Driscoll had been a "tireless" worker and advocate.
"All parties have been working collaboratively towards a hospice and with the building taken care of, we can now work on quantifying the demand to build a service model and thus establish the case for recurrent funding," he said.
Federal Mallee MP Andrew Broad said he supported the construction of a hospice in Mildura, but that his current focus was securing a radiation treatment facility for cancer sufferers in the town.