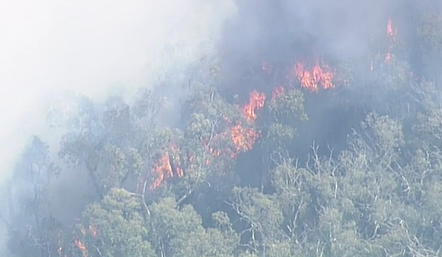 'Too late to leave' as bushfire burns in Gippsland
Residents in the town of Willung in Gippsland have been urged to seek shelter a bushfire burns out of control.
The fire is located 6.3 kilometres south of Rosedale, and is currently travelling in a south-westerly direction to the town of Willung.
An emergency warning has been issued for residents in Willung.
"This fire is threatening homes and lives," Emergency Victoria said in a statement.
"The safest option is to take shelter indoors immediately. It is too late to leave."
A separate Advice warning remains in place for residents in East Sale, Fulham, Giffard West, Kilmany, Kilmany South, Longford, Nambrok, Pearsondale, Rosedale, Sale, Stradbroke, Stradbroke West, The Heart, Willung, Willung South, Wurruk.
Several road closures are in place in Rosedale as a result of the fire, including Rosedale-Stradbroke Road.
For latest traffic information click here
While temperatures are cool today in the Gippsland region, with maximums hovering around the 20-degree mark, winds are currently gusting about 30km/h.
The fire in Rosedale is currently 11,000 hectares.
Vast amounts of smoke is being fanned by fresh winds.
The fresh warning comes just a day after firefighters gained the upper-hand on the suspicious Rosedale fire, which was sparked on Friday amid searing temperatures.
Victoria Police are investigating the blaze, with the exact cause still to be established.
"Experts are considering a number of possible causes including a lightning strike that occurred in the days prior," a police spokeswoman said in a statement this afternoon.
The fire is currently greater than 11,000 hectares in size, with multiple aircraft and ground crews battling the blaze.
More to come
© Nine Digital Pty Ltd 2019