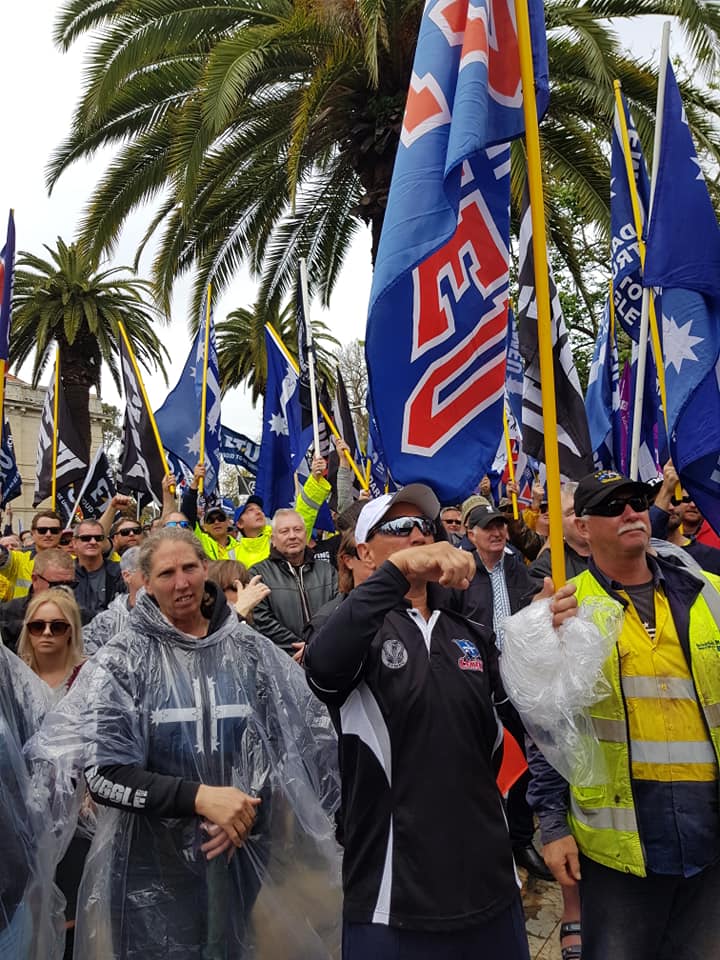 Thousands of unionists rally in Perth to kick off nationwide 'Change the Rules' rallies
About 4000 trade union members rallied in Perth's Solidarity Park on October 18 to kick off the nationwide series of Change the Rules protests organised by the Australian Council of Trade Unions (ACTU).
ACTU secretary Sally McManus told the rally: "We will not accept record low wage growth at a time when profits are up and CEO pay and bonuses are up.
"We are rallying because Australia needs a pay rise.
"We are rallying because we know how horribly the rules are broken," McManus said.
"As much as they try to defeat us, what they don't understand is this: You cannot stop working people standing together, you cannot stop ideas and belief in a fair go, no law can stop that.
"Together we are mighty, we are unbreakable and we are unstoppable."
Transport Workers Union (TWU) state secretary Tim Dawson spoke about their dispute with Transdev, a private company contracted by the Western Australian state government to run part of Perth's Transperth rail and bus network.
Dawson slammed the fact that the rate of casualisation had risen from 20% to 60 % within the space of two years as a result of this outsourcing.
Bus drivers responded by going on strike on October 11-12. Dawson said that further industrial actions, such as rolling stoppages, would continue until TWU members got a decent pay rise and employers, whether it be the state government or a private company, recognised the need for workers to have secure jobs and conditions.
TWU Transdev delegate Lee Patterson told the crowd how Transdev had shut out drivers for 48 hours with no pay due to the industrial action.
Australian Workers' Union (AWU) state secretary Mike Zoetbrood paid tribute to the 1600 Alcoa workers for their recent 52-day strike and condemned the Fair Work Commission (FWC), saying: "We should rename the Fair Work Commission to the Bosses Court, because when the bosses go there to get an order against workers or their union, they get it. When the bosses go there to take away workers penalty rates, they get it. When the bosses go there to tear up worker's enterprise agreements they get it.
"Where's the fairness in that?"
The FWC ruled in Alcoa's favour to block AWU members employed at its Pinjarra work site from attending the rally.
British oil and gas multinational BP has announced that it too is going to the FWC, to seek the termination of its agreement with 200 AWU members at its Kwinana facility.
AWU oil and gas organiser Alana Herbert told the rally: "For more than 18 months, BP have produced deals that have gotten progressively worse.
"Our members have voted 'No' by at least 98% to one of these and what does BP do? Produce another even worse agreement so they can go to the commission and say we aren't ready to make a deal."
Speakers from Unions WA, the Maritime Union of Australia, the Australian Manufacturing Workers' Union and Electrical Trades Union also addressed the rally.