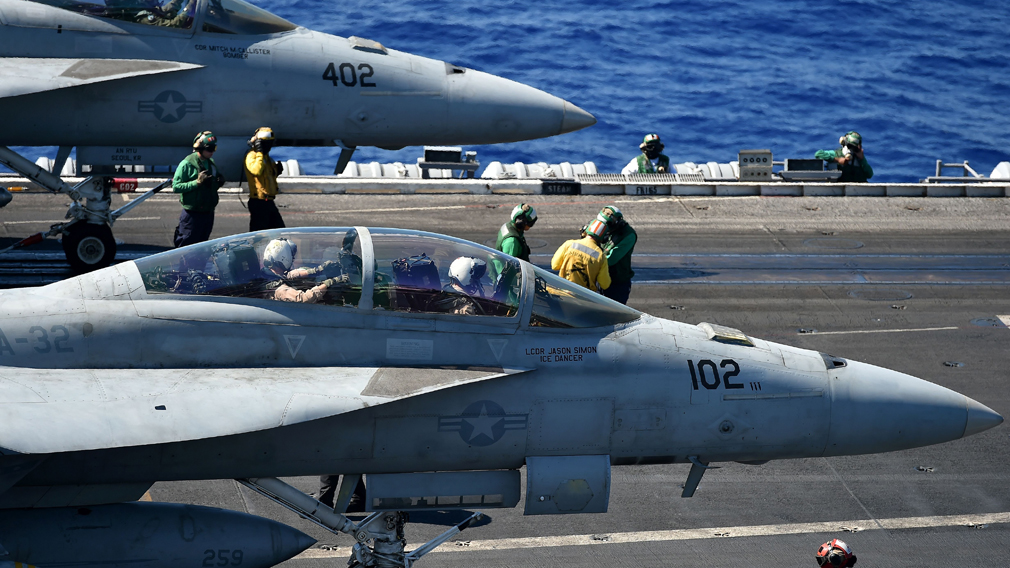 Six marines missing after mid-air warplane crash
Six American warplane crew members are missing after two aircraft crashed into the Pacific Ocean off Japan's south-western coast in a midair collision.
Rescuers found one of seven crew members, who were on-board the plans, in a stable condition and are still searching for the others, officials said.
The US Marine Corps said the crash involved an F/A-18 fighter jet and a KC-130 tanker aircraft.
Six US aircraft crew members are missing in waters off the coast of Japan after a mid-air collision between two aircraft. (CNN)
"Search and rescue operations continue for US Marine Corps aircraft that were involved in a mishap off of the coast of Japan around 2.00 am December 6," local time, a statement by the US Marine Corps said.
The planes "had launched from Marine Corps Air Station Iwakuni and were conducting regularly scheduled training when the mishap occurred."
The primary mission of a KC-130 is airborne refueling. It is not known at this time if the aircraft was refueling at the time of the crash.
Japan's Defense Ministry said the two aircraft were carrying seven crew members in total collided and crashed into the sea about 100 kilometers south of the Muroto Cape on Shikoku island in southwestern Japan.
Officials said the information was provided by the US side.
The Maritime Self-Defense Force, which dispatched aircraft and vessels to join the rescue operation, said Japanese rescuers found one of the crew members in a stable condition.
No other details were provided.
Japanese officials said two crew members were in the F/A-18, and five others in the KC-130.
The aircraft are based in the US Marine Corps base in Iwakuni, west of Hiroshima.
The crash is the latest in recent series of accidents involving the US military deployed to and near Japan.
Last month, a US Navy F/A-18 Hornet from the aircraft carrier USS Ronald Reagan crashed into the sea southwest of Japan's southern island of Okinawa, though its two pilots were rescued safely.
In mid-October, a MH-60 Seahawk also belonging to the Ronald Reagan crashed off the Philippine Sea shortly after takeoff, causing non-fatal injuries to a dozen sailors.
More than 50,000 US troops are based in Japan under the bilateral security pact.
With AP & CNN.