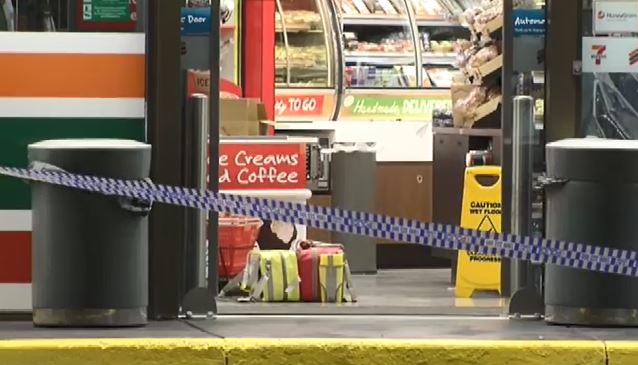 Service attendant shot during robbery in Melbourne
A service station attendant has been shot during an armed robbery in Melbourne's south-east.
Authorities said the offender stormed the 7-11 on Springvale Road in Springvale South just after 4.30am armed with a gun.
During the robbery, the offender shot the attendant, aged in his 40s, in the arm. He was taken to the Alfred Hospital, where he is being treated for non-life threatening injuries.
The offender was taken to hospital with non-life threatening injuries.Picture: 9NEWS (Nine)
The offender fled the scene and is still on the run. Picture: 9NEWS (Nine)
It's believed the offender took cash from the store before fleeing in an unknown direction. 
Investigators are now trying to establish if this incident is connected to another armed robbery, which occurred at a near-by service station on Heatherton Road less than 15 minutes before the Springvale Road robbery.
The service attendant at Heatherton Road robbery told 9NEWS he was mopping the bathrooms when he heard a brick thrown through the front window.
The offender was shot in the elbow during the botched robbery. Picture: 9NEWS (NIne)
The offender, armed with a silver handgun, stormed the shop but eventually left with nothing because he couldn't open the til.
The attendant, who didn't want to be identified, said the offender fled in a van with a grey bottom and white top.
Police are reviewing CCTV footage to confirm if the two robberies are connected. 
Anyone with information is being urged to contact Crime Stoppers on 1800 333 000.