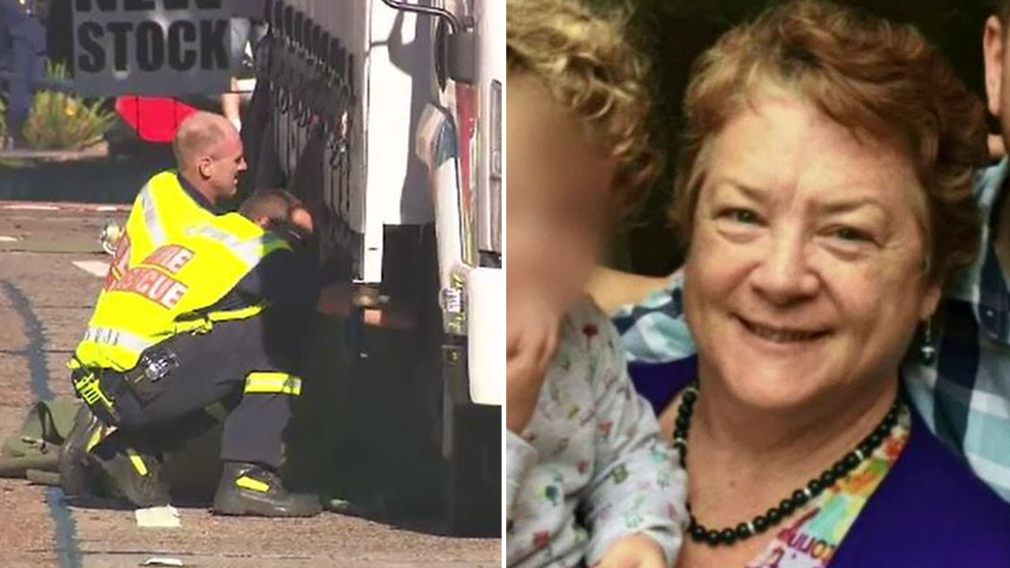 Second truck driver to 'run over Jo-Ann Thwaites' thought it was 'bundle of carpet'
The truck driver who ran over a 61-year-old pedestrian at an intersection on Sydney's north has broken down in the NSW District Court as he described the moment he struck what he thought was a bundle of carpet on the road.
Ricky Percival was behind the wheel of a Dacon air-conditioning delivery truck in May 2016, when he ran over Jo-Ann Thwaites in Brookvale.
After travelling 20 metres Mr Percival said he stopped when he noticed in his rear view mirror a leg protruding from the back tyre.
Jo-Ann Thwaites and her son Nick. Picture: Supplied
Emergency crews inspect one of the trucks involved in the crash. Picture: 9NEWS
It's alleged that moments before Ms Thwaites was hit by Mr Percival she was hit by another truck being driven by Emmanuel Xibberas who has been charged with dangerous driving and failing to stop and assist.
Mr Percival said he was driving along Pittwater Road when he saw what he thought was a bag of rubbish or a bundle of carpet on the road.
He said he couldn't change lanes and there was a slight bump at the front of the truck when he ran over it.
Ms Thwaites and her husband Anthony. Picture: Supplied
The jury has heard evidence Xiberras was seen removing clothing from underneath his truck and throwing it in a rubbish bin after he hit Ms Thwaites at a pedestrian crossing.
Mr Percival said he saw a truck 100 metres ahead of him going around a corner.
Another witness earlier told the jury that Xiberras's truck "looked like a 4WD going over rocks on a mountain".
The trial over Ms Thwaites's death continues. Picture: 9NEWS