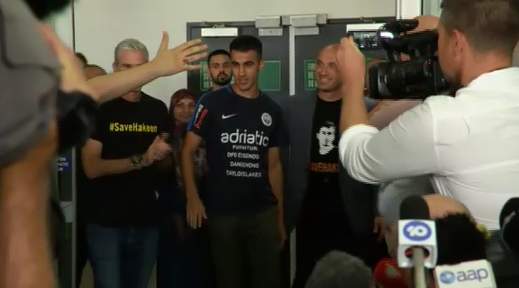 Refugee footballer touches down in Australia after prison ordeal
Refugee footballer Hakeem al-Araibi has arrived in Australia after being released from detention in Thailand.
Al-Araibi touched down in Melbourne on a Thai Airways flight just minutes ago, after spending more than two months in a Bangkok prison.
Dozens of his supporters, who are wearing #SaveHakeem T-shirts, are at the arrivals gate of Tullamarine Airport, ready to welcome the footballer home.
Australia had been lobbying Thailand for al-Araibi's release after the 25-year-old was detained at Bangkok airport on November 27, because he wanted by Bahrain over the vandalising of a police station in 2012. (AAP)
An official from the Thai attorney general's office, Chatchom Akapin, announced yesterday Bahrain had requested the case be dropped after it had sought his extradition.
Al-Araibi was a former elite football players for Bahrain's national team but later publicly criticised the role of the Asian Football Confederation and a member of the Bahrain royal family.
The soccer player fled Bahrain in 2014 and received refugee status in Australia on the grounds he was persecuted and tortured in the Arabian Gulf state for participating in pro-democracy rallies.
Once in Australia, he played soccer for semi-professional Melbourne club Pascoe Vale.
Refugee footballer Hakeem al-Araibi has been freed from prison and is on his way back to Australia from Thailand. (AAP)
Al-Araibi had travelled to Bangkok on a Jetstar flight from Melbourne on November 27 for his honeymoon when authorities acted on a red notice from Interpol relating to alleged vandalism of a police station in 2012.
He had faced at least another two months in jail after a court in Bangkok last week set down his pre-trial extradition hearing for April 22.
Bahrain wanted him returned to serve a 10-year prison sentence he received in absentia in 2014 for an arson attack that damaged a police station, despite claims the vandalism occurred when he was playing a televised football match.
The Thai Foreign Ministry later refused to give details of why Bahrain asked for the case to be dropped. However, Bahrain state media reported on Sunday that Prime Minister Khalifa bin Salman al-Khalifa spoke on the phone with Thai Prime Minister Prayut Chan-o-cha.
Photographers wait at Bangkok airport to catch a glimpse of Hakeem. (AAP)
Al-Araibi, pictured after leaving court on February 4. (AAP)
But after al-Araibi's release, Bahrain's Foreign Ministry said in a statement the 10-year jail sentence remained in place and reaffirmed the country's right to "pursue all necessary legal actions against him".
Mr Morrison thanked Thailand for releasing al-Araibi after intense lobbying from the Australian government, global human rights groups, sporting bodies and the public.
"We greatly appreciate their listening to the issues that have been raised by our government and many others who have raised this case," Mr Morrison said.
Support for the young footballer's release was galvanised by former Socceroo Craig Foster with FIFA, the International Olympic Committee, and high-profile players calling for Thailand to free him.
"Many wonderful people stepped forward to help Hakeem," Foster wrote on Twitter.
"I can't list them, but will thank each of them in time. My thoughts are with Hakeem's wife. Her nightmare will shortly be at an end."
Football Federation Australia thanked Foster as well as the Australian and Thai governments.
"The football family looks forward to welcoming Hakeem home and providing him with ongoing support after such a difficult period," chairman Chris Nikou said.
Sayed Ahmed al-Wadaei from the London-based Bahrain Institute for Rights and Democracy said the decision was a huge victory for the human rights movement in Bahrain and the rest of the world.
SBS analyst and former Socceroo Craig Foster, who led a campaign for his release, tweeted the news. (AAP)
Craig Foster said Scott Morrison can take a lot of credit for Hakeem's release.
"It is not often that we can say that about our politicians but he did a fabulous job. He really stepped up and he made it clear to the Thai Prime Minister how strongly he felt about it," he told Today.
Foster said he was yet to speak to Hakeem.
"I have been in touch with his wife. He only left at 4am This morning. We were very nervous and cautious until we got word from the embassy in Bangkok that he had taken off."
With AAP
© AAP 2019