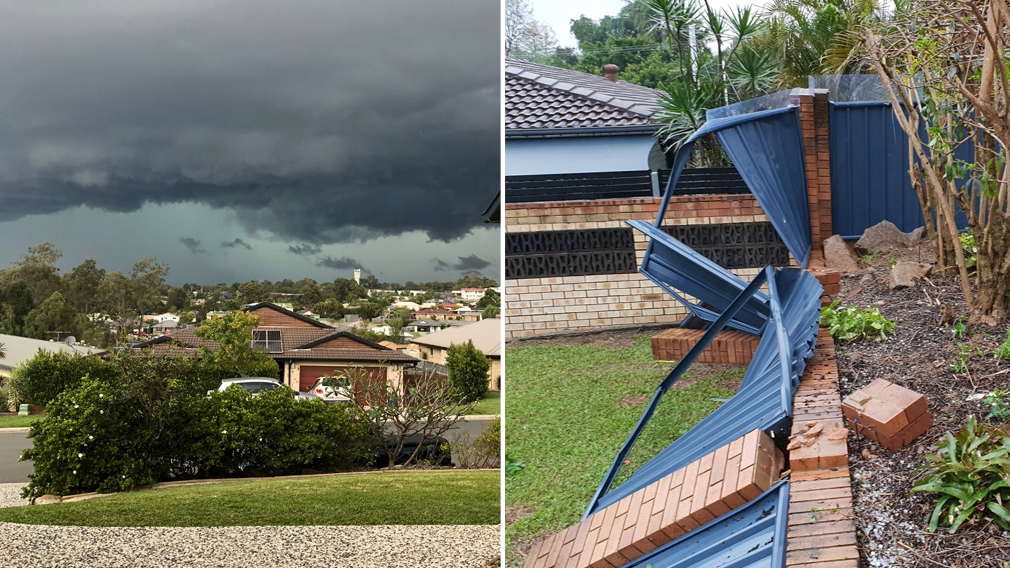 GC600 cancelled and thousands left without power
Queensland's south-east is mopping up after a band of wild electrical storms swept through, wreaking havoc.
The storm cell hit as far south as Grafton in New South Wales and as north as Wide Bay, pummelling the Sunshine Coast, Gold Coast and Toowoomba in between.
Landfall was made at 2.30pm today, with inland areas recording wind gusts of 106km/h.
The storm rolling into Narangba at 2.30pm. (Supplied)
The storm as it approached Bribie Island. (Supplied)
Hail stones of four centimetres wide were felt across the state, with Ipswich recording 56mm of rain in just 30 minutes.
Around 14,000 homes were without power at the height of the storm.
The storm as it approached Bribie Island. (Supplied)
To see your local weather, go to the top of the website and tap your postcode into the section "Your Location" or visit the weather page HERE.
Brisbane Airport was shut down as huge amounts of rain were dumped on the state, with flights either delayed or cancelled.
A knocked over truck in Toowoomba. (Supplied)
The wild weather also forced the closure of the annual Gold Coast 600 Supercar race, with Mount Tamborine copping 42mm of rain in just 15 minutes.
Drivers were slipping and sliding around the track, forcing organisers to pause the race initially before cancelling it completely.
The storm cell has moved offshore, but a severe thunderstorm warning remains in place for Wide Bay, Burnett and parts of the Central Highlands and Coalfields.
More rain is on the way for Queensland tomorrow, with the slight chance of more thunderstorms.
New South Wales had its wild weather last night, with the state recording more than 300,000 lightning strikes.