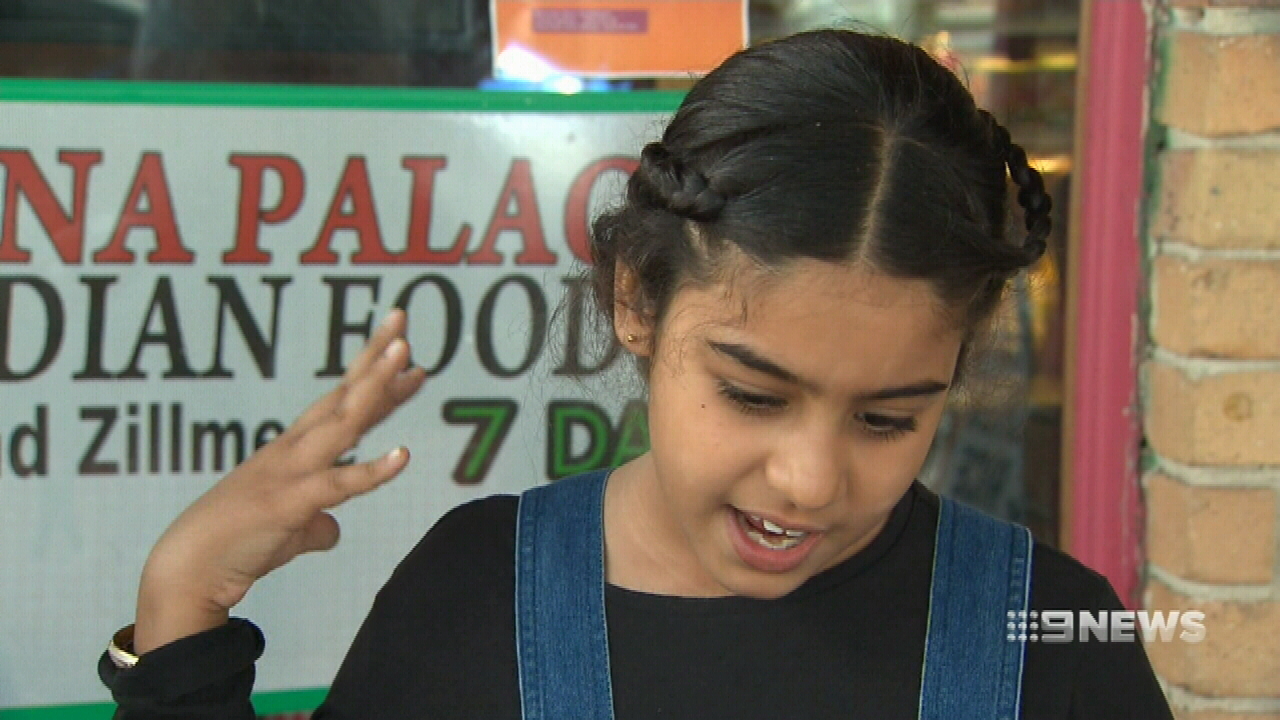 Eight-year-old girl 'wanted to punch' gun-wielding thief
An eight-year-old schoolgirl has told of the moment she had a pistol pointed to her head during a frightening armed hold-up in Brisbane's north.
Grade two student Sona Sahoti was eating dinner at her parents' Indian restaurant in Zillmere last night when the robber burst in, demanding cash.
"He held my shoulder and put his gun on my head," the eight-year-old told 9NEWS.
"I was scared and brave.
"I wanted to punch him but then I knew he would shoot."
The robber stood in between the girl and her mother, threatening to fire his weapon if she didn't hand over money from the till.
The girl's father was working outside at the time and armed himself with a pair of pliers after hearing his family's screams for help.
Sona Sahoti with her mother.
Sukhninder Sahoti armed himself with pliers to protect his family.
Mr Sahoti's response caused the thief to flee.
"He said 'lie down on the ground, lie down on the ground,'" Sukhninder Sahoti said.
Mr Sahoti said he then gave chase, charging towards the robber before running after him down the street.
While the man made off with a few hundred dollars' in cash, he's believed to have left his pushbike at the scene and it's now in the hands of detectives.
Sona Palace has been targeted before.
Sona Palace has been targeted before.
It's not the first that time crooks have targeted the Sona Palace Indian restaurant, which shares the same name as the eight-year-old girl.
Her father Mr Sahoti said he wanted more action to be taken to curb crime rates in the area, fearing further attacks.
Last night's robber is described as around 175cm tall, Caucasian with an olive complexion, aged in his mid-20s with a slim build and brown, curly hair.