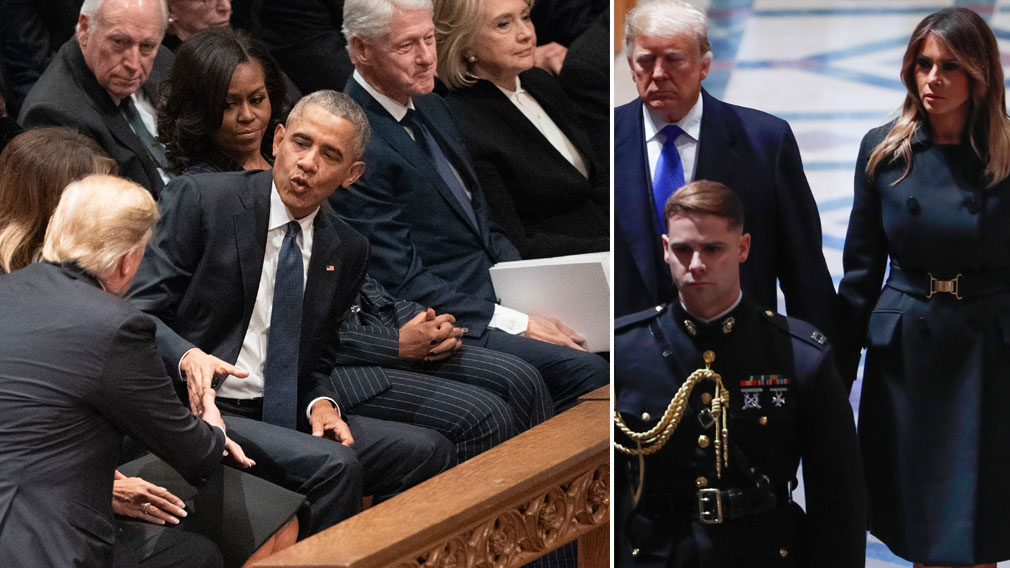 Donald Trump 'snubbed' by Clintons at Bush's funeral
US President Donald Trump and First Lady Melania Trump appear to have been snubbed by Bill and Hillary Clinton as they arrived at the funeral of former President George HW Bush.
Mr and Mrs Trump were seated next to former President Barack Obama and former First Lady Michelle Obama, who greeted them with handshakes when they arrived.
LIVE COVERAGE: Final farewell for George HW Bush
The Clintons ignored the Trumps when they arrived. (Getty)
President Donald Trump and his wife were seated in the same row at the Clintons and Obamas. (AAP)
Former President Clinton and his wife, the former Secretary of State, were also seated in the row and did not acknowledge Mr Trump when he sat down, instead looked straight ahead.
Mr Clinton and Mrs Obama smiled and chatted as music played. At one point, she cracked up laughing at someone's quip.
The meeting of the former presidents is an extraordinary scene within a room of world leaders mingling ahead of the ceremony.
The coffin was draped in the American flag. (AAP)
George W Bush hands a small item to Michelle Obama before the funeral for his father, George HW Bush. (Supplied)
It is the first time the five living presidents have gathered in the one place.
GALLERY: World leaders attend funeral
It is also believed to be the first time Ms Clinton has been in the same room as Mr Trump since losing to him at the 2016 election.
From right to left: former President George W. Bush, former first lady Laura Bush, Neil Bush, Sharon Bush, Bobby Koch, Doro Koch, Jeb Bush and Columba Bush, watch as former President George H.W. Bush is carried by a joint services military honour guard from the Capitol. (AAP)
Michelle and Barack Obama arrive for the funeral of George HW Bush. (AAP)
Before the funeral, Mr Trump tweeted that he was "looking forward to being with the Bush family," calling the day "a celebration for a great man who has led a long and distinguished life."
The casket for the 41st president was driven from the US Capitol to the Washington National Cathedral.
The route was lined with people much of the way, bundled in winter hats and taking photos, while a military colour guard stood at attention as the hearse arrived.
The service capped three days of remembrance in the nation's capital by dignitaries and ordinary citizens as they honoured the Republican president, who died last week aged 94.
The casket of George HW Bush is taken from the Capitol Rotunda. (AAP)
Ivanka Trump and her husband Jared Kushner arrive for the funeral services for former United States President George H. W. Bush. (AAP)