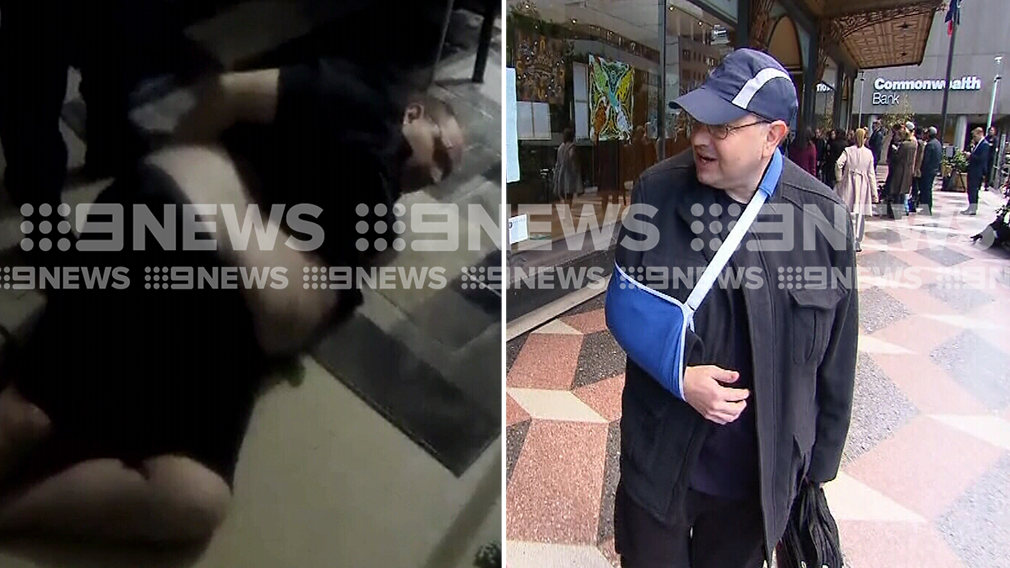 'Disturbing' police bodycam shows suspect's arm being broken during arrest
The actions of two police officers have been described as "disturbing" by a Sydney magistrate, after she viewed vision of them breaking a suspect's arm during an arrest.
Shane Dwyer, 48, was cleared of resisting police today after Magistrate Jennifer Atkinson raised concerns about the level of force used to restrain him in his Eastlakes apartment block last December.
"What I saw in that DVD was quite, quite disturbing," she told the court.
Police were called to Shane Dwyer's Eastlakes home after claims he had been seen with a knife. Picture: 9NEWS
Mr Dwyer was today cleared of resisting arrest. Picture: 9NEWS
Constables Ben Vizzone and Brett Hanna had a body camera rolling when they arrived at the front door of Mr Dwyer's home following allegations he had been seen with knife and had also yelled threats at a female neighbour which included "all Russians should be killed".
Moments after he was told he was under arrest Mr Dwyer attempted to shut the door, but the officers barged him and pinned him to the ground.
The confronting vision, obtained by 9NEWS, also depicts his elbow being twisted in the wrong direction.
One officer was heard to say, "that's what you get for shutting the door on us mate."
Police body cameras were rolling during the arrest. Picture: 9NEWS
A magistrate described the video as "disturbing". Picture: 9NEWS
Mr Dwyer's lawyer Sophie Toomey argued today that comment was telling.
"That utterance smacks of some kind of retribution, that does not say we are just doing this to protect the woman down the hall," Ms Toomey said.
But Constable Vizzone defended his actions, telling the court he was following his training.
"I didn't know if he was going to slam the door and suddenly appear with a knife in the hallway," he said.
The case will be referred to a police commission that investigates allegations of wrongdoing. Picture: 9NEWS
Magistrate Atkinson disagreed.
"It was clear his hands didn't have anything in them and the two officers had him well under control at that point," she said.
She also cleared Mr Dwyer of intimidating his neighbour and being armed with a knife because of doubts about the woman's evidence.
Constable Vizzone was among those in court as Magistrate Atkinson dismissed those charges and announced she would be referring the case to the Law Enforcement Conduct Commission, which investigates allegations of wrongdoing in the police force.