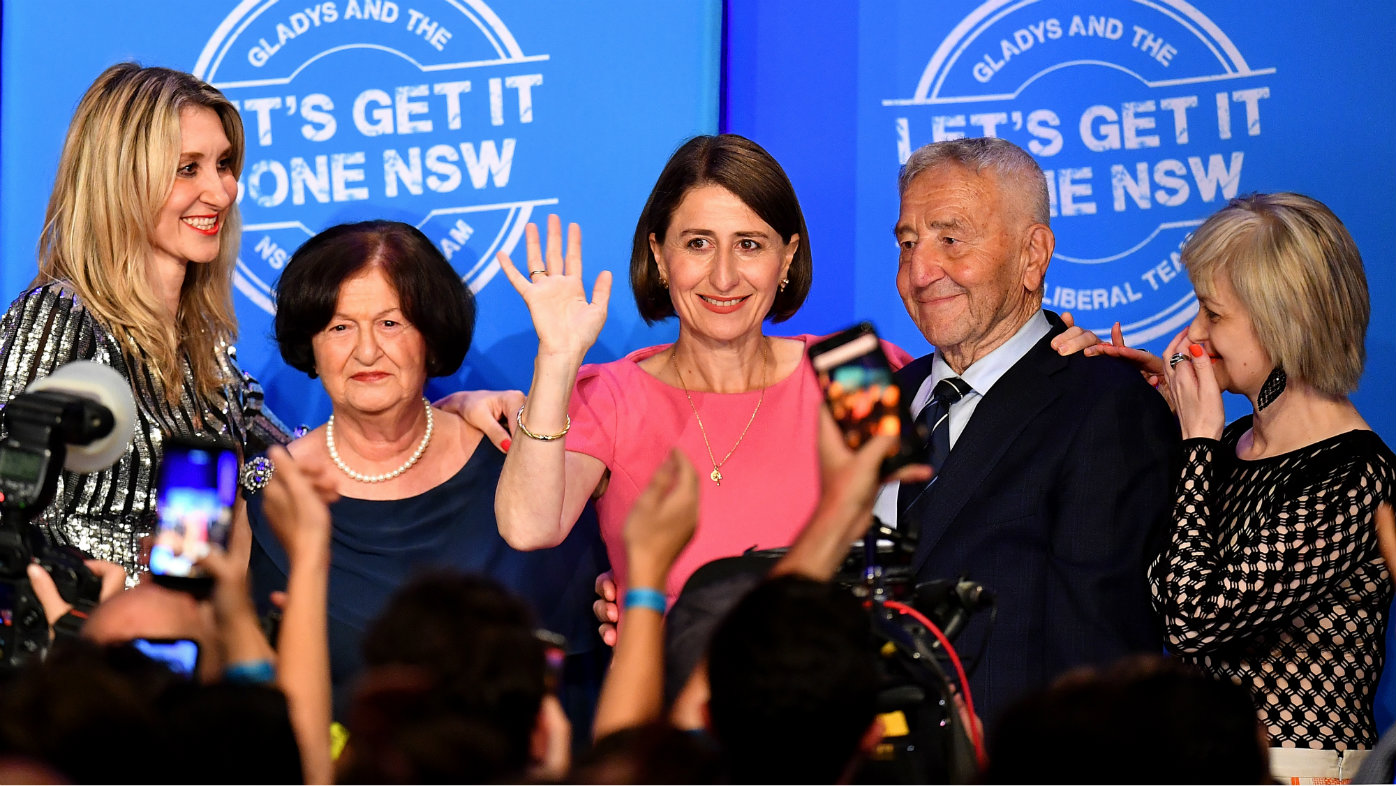 Berejiklian marks historic win in NSW Election
Premier Gladys Berejiklian has celebrated a historic win in the NSW election.
Ms Berejiklian becomes the first female premier to win an election in NSW, leading the Coalition to a third consecutive term in the state for the first time in half a century.
Polling had suggested Ms Berejiklian was anticipated to lead a hung parliament in her next term in office.
But, with a number of races still be to decided, the Coalition may be able to govern in their own right.
At the current count, the Coalition has 45 seats, just two short of a majority.
Several seats remain uncalled.
"My team and I will continue to work our guts out to make sure this state and its people continue to ensure that we have the best opportunities on this planet," Ms Berejiklian said in her victory speech.
"A state in which someone with a long surname - and a woman - can be the Premier of New South Wales."
In an extraordinarily unlikely affirmation of the status quo, Labor has only picked up one seat at the present count, the beachside Sydney seat of Coogee.
Ms Berejiklian has a lot to celebrate, according to Nine's Political Editor Chris Uhlmann.
"It's been an astounding result for Gladys Berejiklian," he said.
"In the history of NSW, that is a rare thing. It hasn't happened for half a century that the Coalition goes on to a third term."
And the government in Canberra will be hoping for a ripple effect.
"Of course Scott Morrison hopes it will get repeated in a few weeks' time. He'll be hoping we can see a result like in NSW," Uhlmann said.
"He has to win seats to stay in power because he's in minority government."
Despite the disappointing result, Michael Daley has declared he we run for opposition leader again.
"I can tell you that it is my intention to remain the leader of the party," Mr Daley said to raucous applause at the Labor reception.
Under NSW Labor rules, Mr Daley will face a leadership spill because of the election defeat.
"Labor have got to go away and lick their wounds and try and figure out who they are as a party," Nine political reporter Chris O'Keefe said.
A jubilant Prime Minister Scott Morrison made a surprise appearance at the Liberal victory party to sing Ms Berejiklian's praises.
"She's the gladiator," he said.
"The Liberal Party is about delivering good government, and that's what has happened in NSW."
The National Party is looking set to lose a handful of seats, two to the Shooters, Fishers and Farmers Party in the NSW far west.
© Nine Digital Pty Ltd 2019