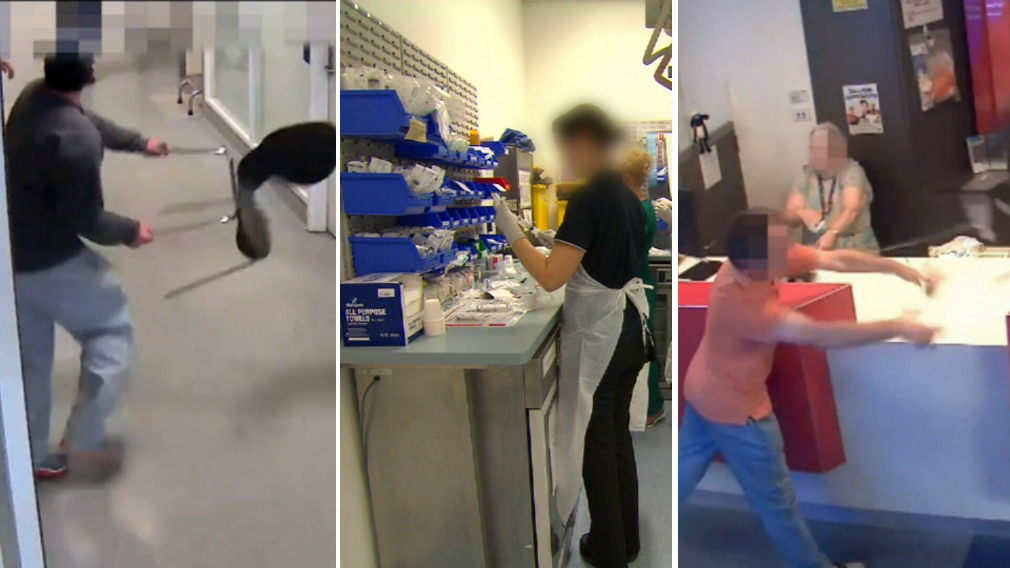 Damning report reveals nurse abuse
Hospital nurses around New South Wales have been kicked, punched, verbally abused and had bodily fluids thrown at them in the workplace, according to a damning new report.
As the state government has been reviewing hospital security standards, it has been revealed that four in five nurses around NSW reported attacks in the past six months.
The study found 35 workers had reported being sexually attacked, 60 per cent had been grabbed or hit, 53 per cent were kicked, pushed or spat at and 52 per cent were punched.
A damning report has revealed the shocking workplace conditions New South Wales' nurses have been enduring. (Supplied)
Adding to that, almost 400 nurses reported having blood, urine, faeces or semen thrown at them by patients.
Midwife Jackie Holmes, 62, told 9News that while she has never been physically attacked at work, she knows verbal threats are common and the study's results are not surprising.
"The verbal abuse can be very demoralising and it can be, you know, very upsetting," she said.
Four out of five nurses in the state have reported abusive attacks against them in the past six months. (Supplied)
The report revealed that nurses have been the subject of kicks, punches, bodily fluids and violence (Supplied)
"It can stay with you for a long time.
"We have seen these results in other state, and I guess what is surprising is that nothing has really been done."
As part of the study, the report also revealed that hospital equipment such as IV poles and syringes were used as weapons to attack nurses around NSW, and their personal property had been damaged - such as having their tyres slashed.
Hospital equipment has also been used to attack nurses around the state and damage their personal property. (Supplied)
The findings have been submitted to the NSW Government's review into hospital security, due to be released later this month.
The report comes ahead of this year's state election, with both major parties working towards providing answers.
"We've made a lot of changes, particularly around extra security devices, CCTV cameras and personal alarms, but the big issue here is culture," Health Minister Brad Hazzard said.
The findings come ahead of this year's state elections, with both major parties promising action to boost hospital security. (Supplied)
(We are) trying to change the culture both outside and inside the hospitals."
Meanwhile, the state Opposition has promised extra protection if it wins at the polls.
"That's why we've announced that if I become Premier, there will be an extra 250 security guards in hospital across NSW to protect these angels," Opposition leader Michael Daley said.
© Nine Digital Pty Ltd 2019